Welcome to The Blue Bunny Bookstore and Mocha Java Espresso Bar and Cafe
MOCHA JAVA and THE BLUE BUNNY together in one location
Plus the DOT CENTRAL with a full selection of Peter H. Reynolds books and merchandise!
Hop on in today!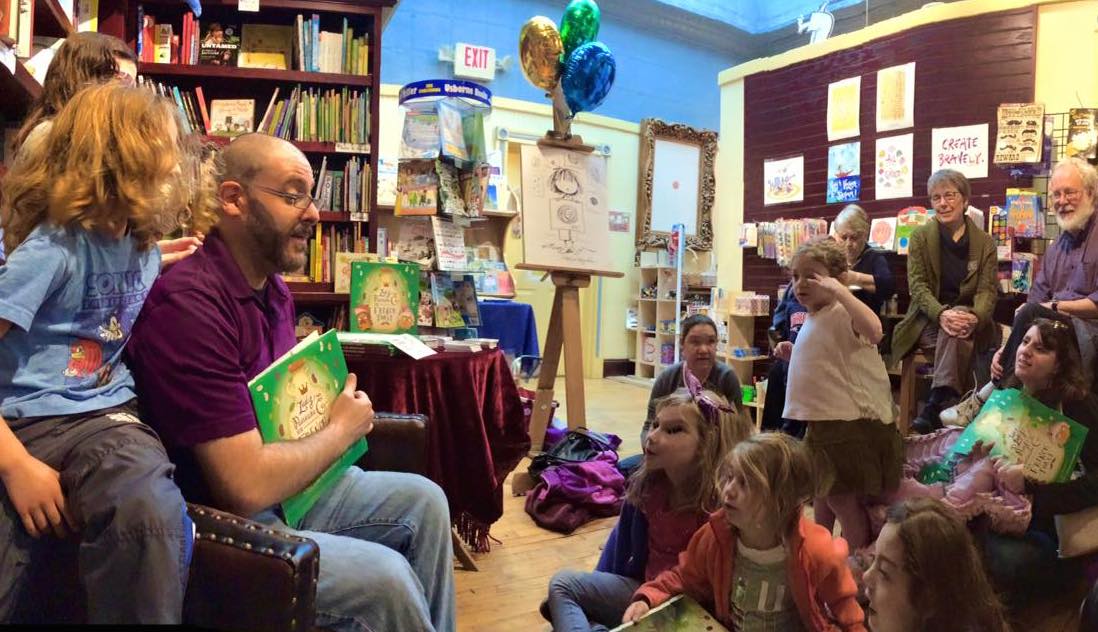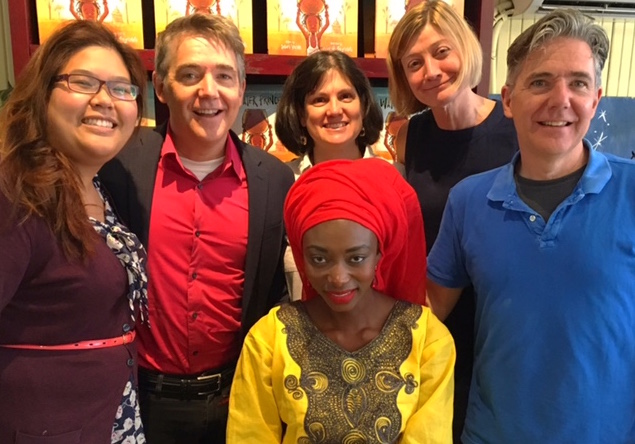 Welcome to The Blue Bunny, Books and Toys, located in the renovated historic Dedham Square in Dedham, Massachusetts. Founded in 2003 by children's book author and illustrator Peter H. Reynolds, our shop offers books, toys, and art supplies, as well as signed copies of Peter's books, prints, posters and cards. Click here to browse our shop -- a small sample from the Peter Reynolds collection. To see Peter's complete collection, and all of our wonderful books and toys, you'll have to come see us in person.
We are "the little shop with a big mission" -- to inspire creativity and self-expression in kids and grown-up kids. A cozy refuge with a retro feel, our store's original tin ceilings, hardwood floors and wainscoted walls make our customers feel good. We try hard to know our customers by name, give friendly advice and book suggestions, we always gift wrap for free, and we happily support and collaborate with schools, community organizations and non-profits in the area.
Thank you for your support of our little store. As an indie shop in the ocean of online competition and big box stores, we rely on you to keep us here. Just a hop, skip and jump from Boston, please visit us if you are in the area.
Upcoming events at the blue bunny
Happy Book Birthday to I AM LOVE! This beautiful story is the 4th book in the I AM wellness series written by @susanverde and illustrated by @peterhreynolds 💖📚 We can't wait for Saturday 9/28 at 11am when Susan and Peter will join us for a very special release-ish event, hope you can join us too! #bookbirthday #bookstagram #iamlovebook #love #compassion
"It was the little dot she had drawn - HER DOT! All framed in swirly gold!" It's International Dot Day this weekend and we are celebrating (along with +16 million people all over the world) ishfully both Saturday 9/14 and Sunday 9/15 - @peterhreynolds will be here 11am-1pm both days making his mark and encouraging you to make yours! If you join us and you are wearing dots, you'll get a free original mini watercolor dot by Peter H. Reynolds! 🎨🖌 #pleasesignit #makeyourmark #thedot #onebravedot #peterhreynolds #swirlygoldframe #dedhamsquare #internationaldotday
Happy Book Birthday #JudyMoody ! Book Quiz Whiz is the 15th book from #dynamicduo #MeganMcDonald & #PeterHReynolds - and we are so excited that Megan (and Peter!) will be here at the shop on 10/22 at 6:30pm to celebrate! #rare #bookbirthday #bookquizwhiz #bookstagram #kidlit #virginiadarebookworms #brainfreeze #authorvisit
We can't wait! Join us 9/7 at 11am! #Repost @peterhreynolds ・・・ Come to the launch of my new guided journal "START WITH A WORD" Sat 7th 11am - get a free pencil inspired by the cover of the book from 11-1pm - "This pencil contains over 10,000 words." @bluebunnybooks @dedhamsquare
More fun from Monday's Storytime with @mistergsongs and @missusgsongs - they were right at home with the blue wig and blue bunny shirt! We loved hearing them read their brand new book Señorita Mariposa! #blue💙 #bookstagram #kidlit #bilingualed #FLES #earlylang #latinGRAMMY #misterg #bengundersheimer #mariposa #butterfly #storytime #dedhamsquare
Last but certainly not least, we capped off a weekend full of wonderful events with a very special Storytime with @mistergsongs and @missusgsongs celebrating the release of their beautiful new book Señorita Mariposa! We had an awesome morning singing, dancing, and of course, reading! In English and Spanish! Signed copies are still available - plus t-shirts and CDs! #bookstagram #kidlit #bilingualed #FLES #earlylang #latinGRAMMY #misterg #bengundersheimer #mariposa #butterfly #storytime #dedhamsquare