Welcome to The Blue Bunny Bookstore and Mocha Java Espresso Bar and Cafe
MOCHA JAVA and THE BLUE BUNNY together in one location
Plus the DOT CENTRAL with a full selection of Peter H. Reynolds books and merchandise!
Hop on in today!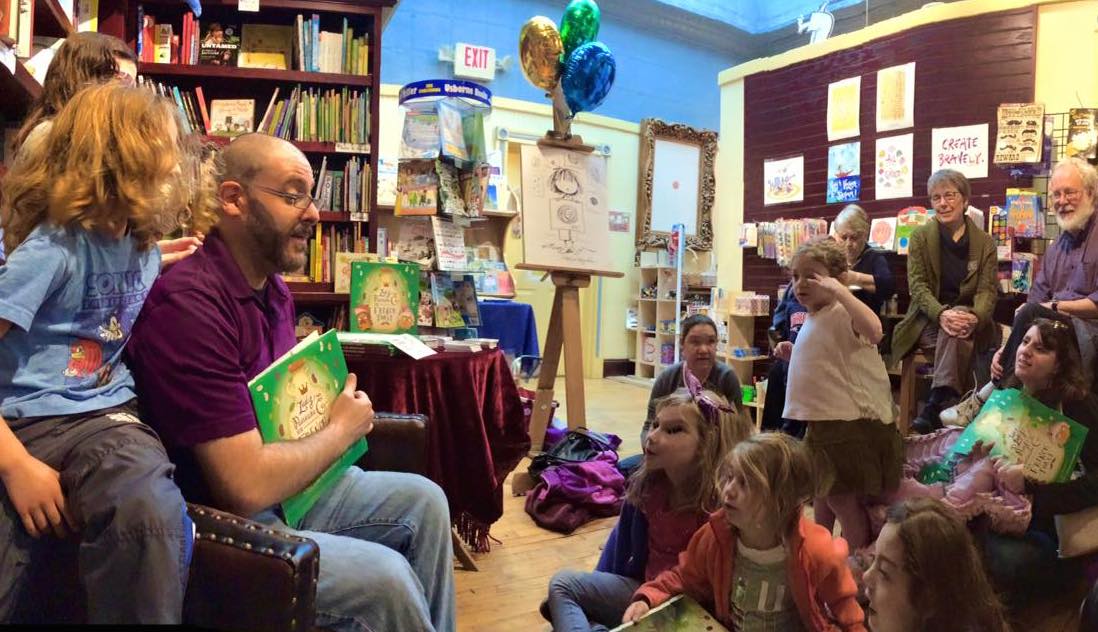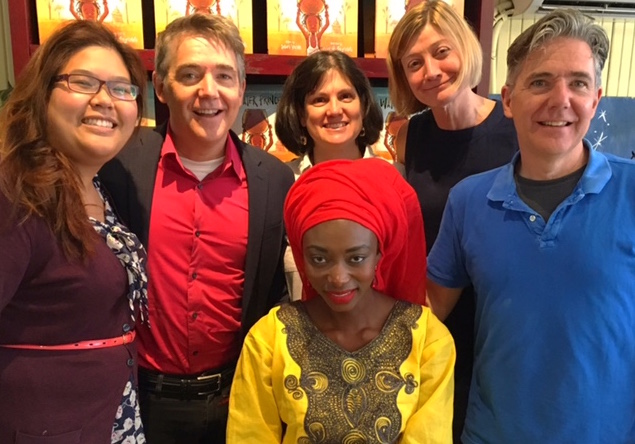 Welcome to The Blue Bunny, Books and Toys, located in the renovated historic Dedham Square in Dedham, Massachusetts. Founded in 2003 by children's book author and illustrator Peter H. Reynolds, our shop offers books, toys, and art supplies, as well as signed copies of Peter's books, prints, posters and cards. Click here to browse our shop -- a small sample from the Peter Reynolds collection. To see Peter's complete collection, and all of our wonderful books and toys, you'll have to come see us in person.
We are "the little shop with a big mission" -- to inspire creativity and self-expression in kids and grown-up kids. A cozy refuge with a retro feel, our store's original tin ceilings, hardwood floors and wainscoted walls make our customers feel good. We try hard to know our customers by name, give friendly advice and book suggestions, we always gift wrap for free, and we happily support and collaborate with schools, community organizations and non-profits in the area.
Thank you for your support of our little store. As an indie shop in the ocean of online competition and big box stores, we rely on you to keep us here. Just a hop, skip and jump from Boston, please visit us if you are in the area.
Upcoming events at the blue bunny
Join us for a lunar themed Storytime on Monday at 10:30am - an early celebration of the 50th anniversary of the first moon walk on July 20! 🌝👩‍🚀 #dedhamsquare #storytime #onegiantleap #moonwalk #apollo11 #50thanniversary
#tbt to the beautiful rainbow over the square a few weeks ago, photo by a true blue fan @sheilzie - no rain in the forecast for today though! We hope everyone has a safe and Happy Independence Day! We'll be open until noon. #dedhamsquare #shoplocal #fourthofjuly #independenceday #somewhereovertherainbow #bunnyears
Happy Father's Day! #Repost @mochajavadedham ・・・ Happy Father's Day! Free beverage for any Dad today who shows this post at the café counter! 💙
Thanks to everyone who joined us last night for the HUTCH release party! Celebrating these young authors and illustrators is one of our greatest joys! #createbravely #Repost @reynoldstlc ・・・ Celebrating #HUTCH issue 21 with @bluebunnybooks and #catchingjoy
We can't wait for author/illustrator Scott Magoon's visit this Saturday 6/15 at 11am! Hope you can hop on in! #dedhamsquare #authorvisits #Repost @skortch ・・・ Be sure to ✏️ this event into your 📅 for next weekend! I'll be @bluebunnybooks this Saturday 6/15 11-12 as the Headliner Tour draws on. I'll read and sign my new book LINUS THE LITTLE YELLOW PENCIL—bookmark and Linus "action figure" pencil swag for the kids. More here: http://scottmagoon.com/tourdates/2019/6/15/book-signing If you're around please come by I'd love to see you there. Thanks! #linusthelittleyellowpencil Thank you Elizabeth Ling & Paul Reynolds for the pics and book styling!
We agree! #Repost @peterhreynolds ・・・ Happiness is reading in your favorite bookshop. #booksmakemehappy #indiebookstore #dedhamsquare
What an incredible day - thank you to Chris Van Dusen and everyone who hopped in! We loved learning about Mercy Watson's origins and how Chris creates his amazing illustrations, oh and sharing some awesome kid-created art and delicious buttered toast too! (Thanks to our friends @thegratefuldedham ✌️💙) #mercywatson #pigletnamedmercy #butteredtoast #dedhamsquare #authorvisits